Is your Macbook battery not charging even though the battery icon shows that it is charging? If so, you are not alone! This is a problem that many users encounter.
Related Reading:
Sometimes, your battery icon at the top might show the lightning bolt icon. However, your device could also say that it's not charging and stays on the same battery percentage. Others might notice the plug symbol instead of the lightning bolt… and of course, it also does not charge or change the percentage of total charge.
If the Battery Status menu on your MacBook says "Not Charging" even when plugged into power, your computer might not be connected to a power source that gives enough power to charge the battery. This often happens when you connect to the power port during a flight — it can provide sufficient power to run your MacBook but not charge it at the same time.
There could, however, be other ways to fix this annoying issue. Let's look at some of them.
1. Check Your MacBook's Battery Condition
You can check your MacBook battery condition by following these instructions.
1. Click on the battery logo in your toolbar at the top.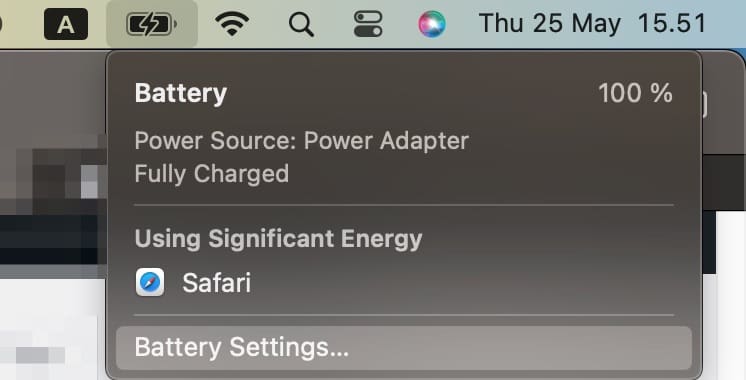 2. Hit Battery Settings.
3. Review your settings under Battery Health. What you see should look something like this.
You can get more of an overview by tapping the i icon next to Battery Health.
Your results should look something like this:
Normal: your battery is functioning normally.
Replace Soon: The battery holds less charge than it did when new.
Replace Now: The battery holds significantly less charge than when new. Continue to use the battery until you can replace it.
Service Battery: The battery needs replaced. Take note of any change in behavior or the amount of charge it holds. You can continue to use your battery before it's checked without harming your computer.
2. Clean Your Charging Port and the Power Adapter
It's possible that your port or the charging cable is dirty. So, we recommend cleaning both your MacBook's charging port AND the power adapter's cable and the charger itself.
Check to make sure there is no dust or debris inside the connectors. Check and clean both the adapter connector and the power port on Macbook. Look closely and remove debris using a magnifying glass or the magnifying glass function on your iPhone.
You can also learn how to clean a charging port in this article: How to clean a USB-C charging port on your MacBook, iPad, or phone.
It's also worth clearing the wall socket to see if that makes much of a different.
3. Try a Different Charger, Outlet, Power Source, or Warm Your Current Charger Up!
If possible, use a different charger from another MacBook and see if the problem persists or resolves. If you do not have access to another charger, visit an Apple Store or Apple Authorized retailer and ask them if you can test your MacBook using one of their chargers.
Make sure that the power outlet you are using to charge your device is working properly. Try a different wall power outlet to test.
It is known that some chargers and adapters may not work if it is too cold. Warming up the charger may fix your problem. Try heating your charger, but of course, make sure that you don't cause any long-lasting damage or put yourself in danger! Maybe you can try warming it under your armpits?…
4. Reset the System Management Controller (SMC)
If your MacBook still is not charging after trying the steps listed above, resetting the SMC may resolve many power-related issues. Try this if your MacBook does not appear to be charging properly. The process differs depending on the Mac you have, and you can find the instructions for each of them below.
MacBooks with a Non-Removable Battery
Shut down your MacBook.
On your built-in keyboard, press and hold all of these keys:

Shift  on the left side of your keyboard
Control  on the left side of your keyboard
Option on the left side of your keyboard

While holding all three keys, press and hold the power button.
Keep holding all four keys for 10 seconds.
Release all keys, then press the power button to turn on your Mac.
MacBooks With a Removable Battery
Shut down your Mac.
Remove the battery.
Press and hold the power button for 5 seconds.
Reinstall the battery.
Press the power button to turn on your Mac.
MacBooks With the T2 chip
Shut down your Mac.
On your built-in keyboard, press and hold all of the following keys:

Control  on the left side of your keyboard
Option on the left side of your keyboard
Shift on the right side of your keyboard

Keep holding all three keys for 7 seconds, then press and hold the power button as well.
Keep holding all four keys for another 7 seconds, then release.
Wait a few seconds, then press the power button to turn on your Mac.
MacBook Battery Not Charging? Let's Fix It!
If your MacBook battery is not charging, don't worry. You can try several fixes to stop this problem from holding you back for too long. In many cases, you won't need to try a huge range of things either.
The first place you should start is by checking your MacBook's battery health, and you can do this by tapping on the icon and selecting the necessary settings there.
You can also try changing your charger and seeing if different plug sockets work. You might need to replace your charger in some cases, but it's worth assessing all of your options before doing so. If you're still under warranty, you might be able to get a replacement piece.
Obsessed with tech since the early arrival of A/UX on Apple, Sudz (SK) is responsible for the original editorial direction of AppleToolBox. He is based out of Los Angeles, CA.
Sudz specializes in covering all things macOS, having reviewed dozens of OS X and macOS developments over the years.
In a former life, Sudz worked helping Fortune 100 companies with their technology and business transformation aspirations.