Q: I updated my iPhone my iOS, but I don't see AirDrop in Control Center! AirDrop is missing, how do I fix it?
A: For iOS 11 and above, AirDrop is Tucked Away in your Control Center
AirDrop is hidden in the 3D Touch, Haptic Touch, or Long Press submenus within the "connections" tile, including Airplane Mode, WiFi, Cellular, and Bluetooth.
Take a look at our article Where's AirDrop in iOS11? We've Found it and More! for more info when using AirDrop in iOS 11 and above.
A: For folks with iOS 7-10, the AirDrop option is located in Control Center
To open Control Center, simply swipe up from the bottom of your screen: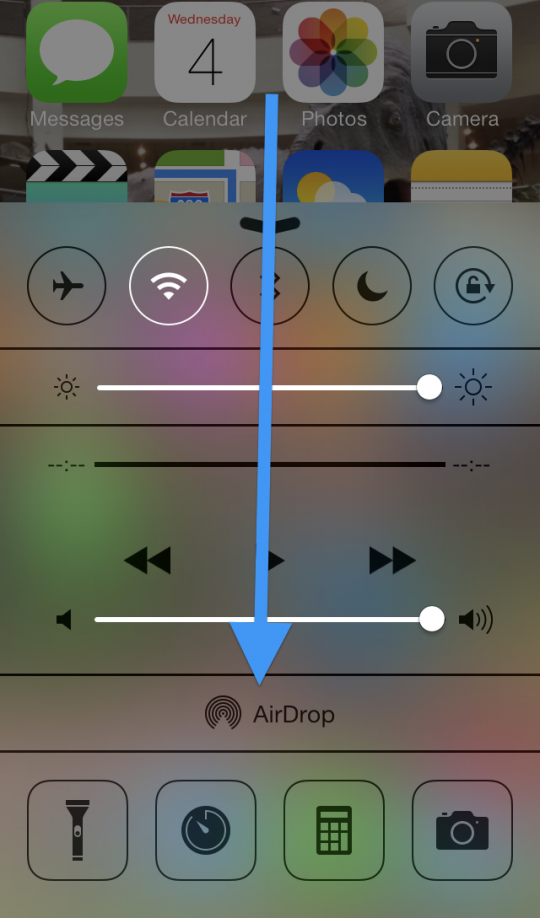 Tips for AirDrop is missing
Restart Bluetooth And WiFi on both devices
Update Discoverability Settings to Everyone
Turn Personal Hotspot OFF
Make sure both the Mac and the iPhone (iDevice) are on the same WiFi network

This tip is not an AirDrop requirement, but our readers tell us this often fixes problems between devices
If your router sends out both 2.4GHz and 5GHz on the same SSID, check that you connect to the same bandwidth as well

Make sure AirDrop is enabled to show in your Mac's Finder sidebar

Go to Finder > Preferences > Sidebar

Check your Bluetooth Preferences on Mac

Go to System Preferences > Bluetooth

Use Spotlight Search and type in AirDrop to open discovery window
Receiving showing it's off?
If you see Receiving Off and can't change it, go to Settings > Screen Time > Content & Privacy Restrictions > Allowed Apps and verify that AirDrop is allowed.
If your iOS (iPhone, iPad or iPod touch) device does not have the AirDrop option, please note that:
AirDrop is only available on iPhone 5 or later (e.g., iPhone 5S and 5C), iPad fourth generation and newer, iPad mini and iPod Touch fifth generation and newer. This means that, for instance, if you own an iPhone 4S, or iPad 2, then your device(s) will not have AirDrop.
AirDrop supports only iOS 7 and above devices. This means that if your device is running iOS 6 or lower, then your device will not have it.
If you are using a compatible (such as iPhone 5) device that is running a supported iOS version (7 and above) and still missing AirDrop, it is likely that access to AirDrop is restricted. Simply tap Settings > Screen Time > Content & Privacy Restrictions >Allowed Apps and make sure AirDrop is allowed and not restricted
For older iOS, General > Restrictions > enter your passcode > and Allow AirDrop. Now you should find AirDrop in the Control Center.
AirDrop is missing: Using an Older Mac?
If you have a Mac from 2012 or later and are trying to send a file to a Mac made before 2012, you need to search for that older Mac.
In the AirDrop Window, select Don't see who you're looking for? And click the Search for an Older Mac in the pop-up and hopefully, that older Mac appears.
AirDrop Not Showing Up in Mac's Finder Sidebar?
It's time to leverage Terminal.
Open a Terminal session (Applications > Utilities > Terminal) and type in the following command to deactivate AirDrop:
defaults write com.apple.NetworkBrowser DisableAirDrop -bool YES
Once disabled, type in this command to activate it again:
defaults write com.apple.NetworkBrowser DisableAirDrop -bool NO
Finally, quit Terminal and relaunch Finder.
Then restart, and check if the AirDrop item now shows up in your Sidebar tab of the Finder preferences (Finder > Preferences > Sidebar)
Still Not Seeing AirDrop?
Open a Finder Window and Search
Navigate to the Go Menu in the top menu bar
Select Go to Folder and paste in this path:

/System/Library/CoreServices/Finder.app/Contents/Applications

Look for AirDrop in this folder and try to open it
If AirDrop isn't there, create a new user account in System Preferences and test again

If AirDrop shows up in a new user account, there's likely a problem with your current user account's permissions
Try killing your Finder, via another Terminal Commands
defaults write com.apple.NetworkBrowser BrowseAllInterfaces 1
Press return
killall Finder
Press return
Check if AirDrop is back
Delete or Isolate Your Finder's plist file ( ~/Library/Preferences/com.apple.finder.plist)
Use the top menu Go > Go To Folder or use the keyboard shortcut SHIFT+COMMAND+G
Type in ~/Library/Preferences
Locate the file com.apple.finder.plist
Delete the file, move to the trash, or isolate it on your Desktop
Restart your Mac
Now, see if the problem is due to a corrupt Finder plist file. If so, deleting the above file (or sequestering it) often resolves the issue with AirDrop when your macOS rebuilds the Finder plist during the restart.
If things still aren't working for AirDrop on your Mac or iDevice, please see our in-depth AirDrop troubleshooting article
No Time? Check out our AirDrop troubleshooting video tips!
Obsessed with tech since the early arrival of A/UX on Apple, Sudz (SK) is responsible for the editorial direction of AppleToolBox. He is based out of Los Angeles, CA.
Sudz specializes in covering all things macOS, having reviewed dozens of OS X and macOS developments over the years.
In a former life, Sudz worked helping Fortune 100 companies with their technology and business transformation aspirations.