Several users have reported that Siri software does not always work on their iPhone. Some of these Siri problems start happening on their own out of the blue while others experience problems after an iOS Upgrade on their device. If Siri is not working on your iPhone, you can follow the steps below and give it a try.
It is important to note that 90% of Siri's magic happens in the Apple Servers and not your local device. It is, therefore, important that you have a reliable  Wi-Fi or cellular signal when trying to get Siri working on your iPhone. 
Related Articles
Is Siri Not Showing Up on Lock Screen?
It's usually a setting that's not turned on, often caused by a recent iOS update.
First, check Settings>Touch ID & Passcode and scroll down to 'Allow Access When Locked' and make sure 'Siri' is enabled.
Another way to turn this feature on in iOS 11, go to Settings > Siri & Search > and toggle ON Allow Siri When Locked. If it doesn't work immediately, restart your device and try again.
For iOS 10, go to Settings > Siri > and toggle on Access When Locked. 
Hey, Siri Not Working? 
Make sure your iPhone support Hey, Siri. If you have an iPhone 6s or later, or an iPad Pro (except iPad Pro 12.9-inch 1st generation doesn't support it), use "Hey Siri" whenever. But for folks with an iPhone 6 or earlier, or another iPad or iPod touch model, plug into power first. The give Hey, Siri a try.
Next, Make sure that your device is face up. Placing your device face down disables "Hey Siri." And all smart covers disable Hey Siri when closed.
Look at Settings
Go to Settings > Siri & Search (or just plain Siri) and toggle ON Listen for Hey Siri (or Allow Hey Siri.)
Additionally, if you have Low Power Mode turned on, Apple disables Hey Siri for power-saving purposes. If possible, turn off low power mode. Use Control Center or go to Settings > Battery and switch off Low Power Mode. If not possible, charge up, and Siri turns on automatically when your iDevice reaches a sufficient charge.
An interesting reader tip that works is turning off your iDevice's Battery Percentage. Go to Settings > Battery and toggle off Battery Percentage. Who knew!
Finally, make sure your mics are clean and not covered. Sometimes, cases cover microphones, especially if you're not using the correct case for your model iPhone or iPad.
Toggle AirPlane Mode 
Turning Airplane Mode on, waiting 20-30 seconds, and then toggling it back off often helps Siri reset.
To get to Airplane Mode, open Control Center or open Settings > Airplane Mode. Toggle it on, wait about 30 seconds, then turn it back off.
Now check if Siri starts responding and showing you results!
Reset All Your Settings
If nothing's helping thus far, let's try and reset your device's personalized settings and return them to Apple's defaults.
When you choose to reset all settings, you're erasing all of your iDevice's saved settings (things like wallpapers, accessibility settings, brightness&display settings) and returning them to factory defaults.
To reset all iPhone settings
Go to Settings > General > Reset > Reset All Settings 
Enter your passcode and tap Reset All Settings to confirm
Your iPhone resets its settings and restarts
Cool Tip! Ever wonder what Siri stands for? It's actually Speech Interpretation & Recognition Interface
How to Fix Siri Problems in General
If you are having problems with Siri, you may try the following steps to resolve your issue
Make sure that that your iPhone is connected to the Internet
Make sure that Siri is enabled (Settings > General > Siri) especially if you have older iOS. On iOS 10 select Settings > Siri > and enable Siri. And on iOS 11, go to Settings > Siri & Seach and make sure you have at least one of the Siri toggles enabled, including one of the following: Listen for Hey Siri, Press Home for Siri, or Allow Siri When Locked (or more).
Make sure that Siri is set to the correct language (Settings > General > Siri > Language). iOS 10, this can be found on Settings > Siri & Search (or Siri) > Language
Some of the Siri features require you to use Location Services. You may want to turn on Location Services (Settings > Privacy > Location Services > Siri & Dictation)
A reader noticed that Siri's volume is independent of your device's set volume. While Siri is answering a question push the volume button to increase volume! Instant sound!!!
Disable Siri (tap Settings->General> Siri OR  Settings > Siri & Search), then turn your iPhone off and on and re-enable Siri again
If the above steps do not work, try resetting all settings on your iPhone. To do that tap, Settings > General > Reset > Reset All Settings. Note that this removes all settings and preferences. But your data (apps, songs, etc.) will not be deleted
With Newer iOS releases, there are additional steps that you can take to see if it solves your issue
Switch On/Off Dictation: Settings > General > Scroll down to keyboards > Toggle Enable Dictation to Off and Turn it on. This is the last setting on the screen, so you need to scroll down to the bottom of the screen to access this.
Enable Hey Siri: Turn ON Hey Siri: Settings > General > Siri > Tap on Allow Hey Siri if you are using older iOS. You can access this setting on iOS 10 and higher versions by tapping on Settings > Siri & Search 
Clean your iPhone/iPad Microphone and make sure it is unobstructed.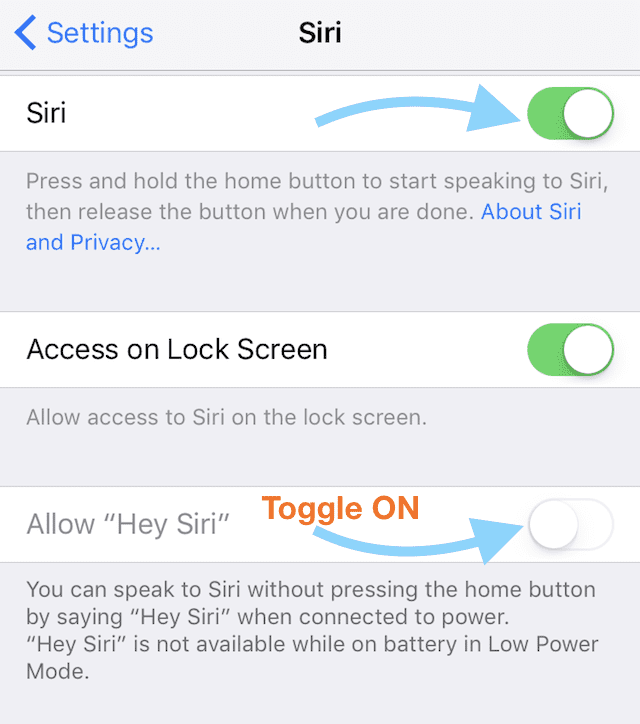 Siri doesn't work after iOS 10-12 Updates
Several users have found that their Siri on their mobile device works only when connected to their Wi-Fi but does not operate when they are on a cellular connection away from their home or office. People report seeing the error message 'Connection not available' when trying to access Siri on their cellular connection. If you are having this issue, you may want to look at your VPN settings on your iPhone.
The VPN software apparently blocks your device's access to Apple Servers.
The new iOS 10 does not seem to work with some of the older VPN installs on your iPhone. Delete the VPN profile in your iPhone settings by tapping on Settings > General > VPN. Once you remove the VPN Profile, give it a try.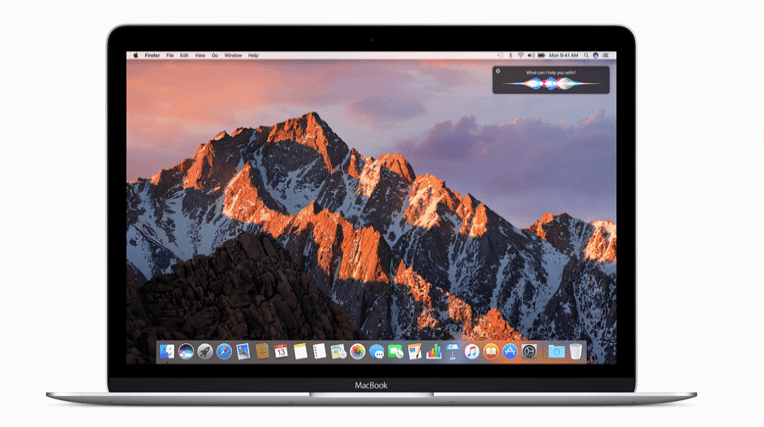 Additional Siri Resources to Consider
If you have other challenges with using Siri, you may want to consider some of these resources below. There is a lot of material out there that walks you through some of the Siri tricks and tips, but we wanted to share some of the common and productive Siri tips that have been tested and work on your iPhone.
Reader Tips 
Change to hands-free free only and see if Siri starts working again
Try to use Siri with your Earbuds (AirPods or any other headphones) are in and see if it works
I changed my Siri voice to a different county (in my case to an Australian female.) After 30 minutes or so, Siri started working again and I could set up Hey Siri. After that, I changed back to UK English (male.) So give this tip a try if you're having problems!
We hope that the tips and resources provided above worked for you and you can get your Siri working on your device again. Please let us know in the comments if there are other issues that you are facing with Siri.