Several users have reported that Siri software does not always work on their iPhone. Some of these Siri problems start happening on their own out of the blue while others experience problems after an iOS Upgrade on their device. If Siri is not working on your iPhone, you can follow the steps below and give it a try.
It is important to note that 90% of Siri's magic happens in the Apple Servers and not your local device. It is, therefore, important that you have a reliable  Wi-Fi or cellular signal when trying to get Siri working on your iPhone.

Quick Tips 
Follow These Quick Tips To Fix Siri Not Working
Toggle the Settings for Hey Siri and Press Side Button for Siri on (or off and on)
Disable Low Power Mode
Toggle Airplane Mode on and then off
Change Siri's language temporarily
Reset All Your personalized feature settings (Settings > General > Reset > Reset All Settings)
Turn on Location Services for Siri
Related Articles
Is Siri Not Showing Up on Lock Screen?
It's usually a setting that's not turned on, often caused by a recent iOS update.
First, check Settings>Touch ID (or Face ID) & Passcode and scroll down to 'Allow Access When Locked' and make sure 'Siri' is enabled.
Another way to turn this feature on in iOS 11 and above, go to Settings > Siri & Search > and toggle ON Allow Siri When Locked. If it doesn't work immediately, restart your device and try again.
For iOS 10 and below, go to Settings > Siri > and toggle on Access When Locked. 
Hey, Siri Not Working? 
Make sure your iPhone support Hey, Siri. If you have an iPhone 6s or later, or an iPad Pro (except iPad Pro 12.9-inch 1st generation doesn't support it), use "Hey Siri" whenever. But for folks with an iPhone 6 or earlier, or another iPad or iPod touch model, plug into power first. The give Hey, Siri a try.
Next, Make sure that your device is face up. Placing your device face down disables "Hey Siri." And all smart covers disable Hey Siri when closed.
Look at Settings
Go to Settings > Siri & Search (or just plain Siri) and toggle ON Listen for Hey Siri (or Allow Hey Siri.) If already enabled, toggle off, wait 20-30 seconds, and toggle Hey Siri back on.
Additionally, if you have Low Power Mode turned on, Apple disables Hey Siri for power-saving purposes.
If possible, turn off low power mode. Use Control Center or go to Settings > Battery and switch off Low Power Mode. If not possible, charge up, and Siri turns on automatically when your iDevice reaches a sufficient charge.
An interesting reader tip that works is turning off your iDevice's Battery Percentage. Go to Settings > Battery and toggle off Battery Percentage, who knew!
Finally, make sure your mics are clean and not covered. Sometimes, cases cover microphones, especially if you're not using the correct case for your model iPhone or iPad.
Toggle AirPlane Mode 
Turning Airplane Mode on, waiting 20-30 seconds, and then toggling it back off often helps Siri reset.
To get to Airplane Mode, open Control Center or open Settings > Airplane Mode. Toggle it on, wait about 30 seconds, then turn it back off.
Now check if Siri starts responding and showing you results!
Change Siri's Language
A reader shared this tip! Change Siri's language temporarily, then change it back
How To Modify Siri's language
Go to Settings > Siri & Search
Tap Language, under the Ask Siri heading
Change to another language or a regional version of your current language (like English (Canada) instead of English (United Kingdom)

When you change Siri's language, it turns off "Hey Siri" until you re-train Siri to your voice

Once Siri updates to the new language, restart your device
Return back to Siri's settings and change again to your usual language
Since Hey Siri is off, toggle it on and go through the steps to train Siri to your voice 
Reset All Your Settings
If nothing's helping thus far, let's try and reset your device's personalized settings and return them to Apple's defaults.
When you choose to reset all settings, you're erasing all of your iDevice's saved settings (things like wallpapers, accessibility settings, brightness & display settings) and returning them to factory defaults.
To reset all iPhone settings
Go to Settings > General > Reset > Reset All Settings 
Enter your passcode and tap Reset All Settings to confirm
Your iPhone resets its settings and restarts
Cool Tip! Ever wonder what Siri stands for? It's actually Speech Interpretation & Recognition Interface
How to Fix Siri Problems in General
If you are having problems with Siri, you may try the following steps to resolve your issue
Make sure that that your iPhone is connected to the Internet
Make sure that Siri is enabled (Settings > Sir & Seach or for older iOS,  General > Siri)

Check this setting especially if you have older iOS. On iOS 10 and below select Settings > Siri > and enable Siri
And on iOS 11 and above, go to Settings > Siri & Seach and make sure you have at least one of the Siri toggles enabled, including one of the following: Listen for Hey Siri, Press Home for Siri, or Allow Siri When Locked (or more)

Make sure that Siri is set to the correct language (Settings > General > Siri > Language). For iOS 11 and above, find this in Settings > Siri & Search (or Siri) > Language
Some of the Siri features require you to use Location Services. You may want to turn on Location Services (Settings > Privacy > Location Services > Siri & Dictation)
A reader noticed that Siri's volume is independent of your device's set volume. While Siri is answering a question push the volume button to increase volume! Instant sound!!!
Disable Siri (tap Settings->General> Siri OR  Settings > Siri & Search), then turn your iPhone off and on and re-enable Siri again. To disable Siri in iOS 11 and above, see this article
If the above steps do not work, try resetting all settings on your iPhone. To do that tap, Settings > General > Reset > Reset All Settings. Note that this removes all settings and preferences. But your data (apps, songs, etc.) will not be deleted
With Newer iOS releases, there are additional steps that you can take to see if it solves your issue
Switch On/Off Dictation: Settings > General > Scroll down to keyboards > Toggle Enable Dictation to Off and Turn it on. This is the last setting on the screen, so you need to scroll down to the bottom of the screen to access this.
Enable Hey Siri: Turn ON Hey Siri: Settings > General > Siri > Tap on Allow Hey Siri if you are using older iOS. You can access this setting on iOS 10 and higher versions by tapping on Settings > Siri & Search 
Clean your iPhone/iPad Microphone and make sure it is unobstructed.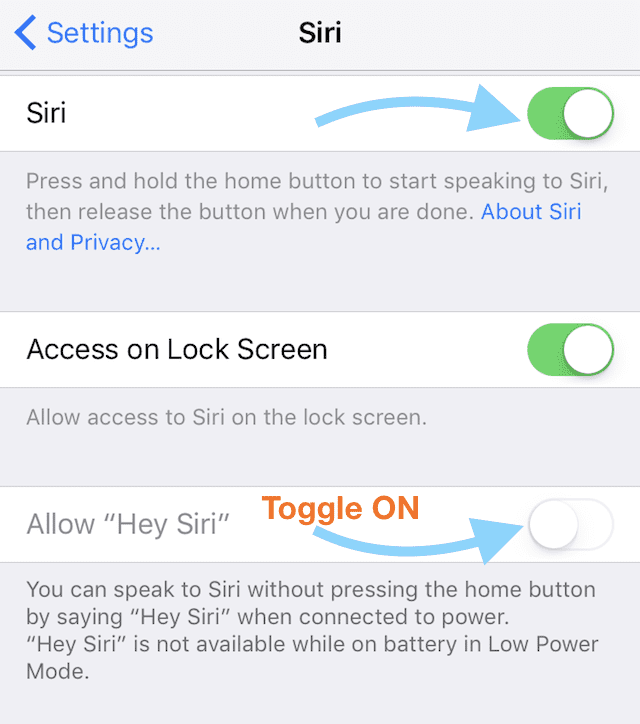 Siri doesn't work after iOS 10-12 Updates
Several users have found that their Siri on their mobile device works only when connected to their Wi-Fi but does not operate when they are on a cellular connection away from their home or office.
People report seeing the error message 'Connection not available' when trying to access Siri on their cellular connection. If you are having this issue, you may want to look at your VPN settings on your iPhone.
The VPN software apparently blocks your device's access to Apple Servers.
New versions of iOS often do not seem to work with some of the older VPN installs on your iPhone. Delete the VPN profile in your iPhone settings by tapping on Settings > General > VPN.
Once you remove the VPN Profile, give it a try.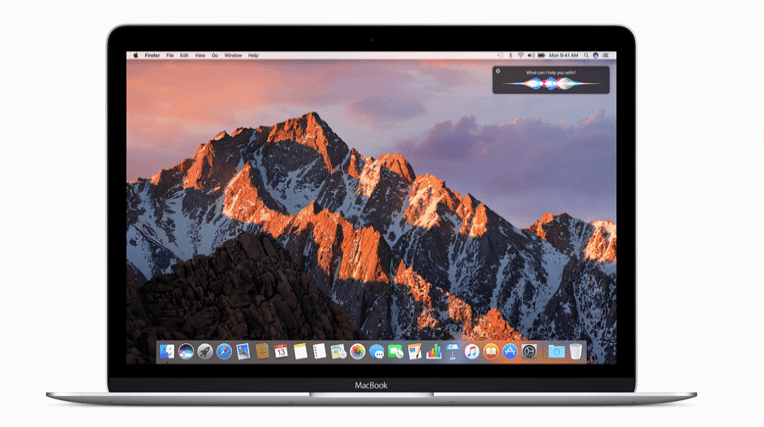 iOS 11+ and Siri Cutting You Off
In the last 3 months or so, users have been learning more and more about the deficiencies with Siri. Apple was the first to the market with a personal assistant in your pocket, but Siri has seemingly been tossed to the wayside.
While Siri works well with most tasks, there are still issues that arise from time to time. One such problem is that it seems that Siri literally cuts you off before the command is finished.
This has grown even more problematic with the release of iOS 11. Users have taken to Reddit, Apple's Support Forums, and other forums to state their frustrations and displeasures.
Things have gotten so bad that when you start typing "why does Siri…" the auto-complete suggestion is "…cut me off".
We, we'll be looking at a few options that you can take to help avoid this issue. Some of these options may even be able to help you get rid of the problem altogether.
The "Easy" Siri Fix
If you scour through the Apple Forums, you'll find a lot of the same "Apple Recommended" answers. This is to make sure that you're holding the 'side button' for the entire time that you're asking a question.
As expected, once you release the button, Siri will begin replying to you or perform the necessary action. However, this does not exactly work for everyone, which left us digging a bit deeper.
Something else to consider is that Apple's assistant has seen a few enhancements recently. No longer do you have to wait to hear the familiar chime. Instead, you can press and hold the Side Button and begin talking right away.
The unfortunate thing for some is that the assistant will continue to interrupt. This happens even if you are holding the Side Button, or home button while speaking your command or request.
Turn Siri off
Another simple fix for Siri acting weird is to turn the functionality on and then off. To do so, follow these steps: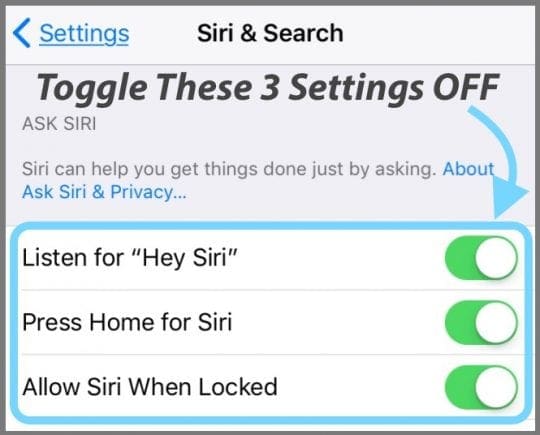 Open 'Settings'
Scroll down and select 'Siri & Search'
Toggle off the following:

Listen for "Hey Siri"
Press Side Button for Siri
Allow Siri When Locked
After this has been completed, a pop-up appears. This confirms that you want to turn off Siri completely.
READ MORE: Can't Turn Off Siri in iOS 11? It's easier than you think
To make sure that all of the bugs are worked out, you'll want to reboot your iPhone. When the phone turns back on, you'll want to head back into Settings and turn Siri back on.
Clean up your speaker
Moving past the easy fixes, we dive a bit deeper into what makes Siri tick. It seems that the speaker used for responses is not housed with the regular speaker at the bottom.
Instead, Apple decided to move the speaker to the earpiece at the top of the iPhone. This means that there is a chance that the earpiece can clog up with dust dirt or anything else in your pocket.
You can attempt to clean the earpiece yourself. To do so, you'll need isopropyl alcohol and a cotton swab.
Unfortunately, this doesn't always do the trick. In those cases, you'll need to head to your local Apple Store. If things are too clogged, Apple will have to replace the front-facing camera assembly.
This obviously is rather inconvenient, but a faulty microphone can help explain why Siri is so rude.
Provide feedback
If none of those above options work, then you may be out of luck for a bit. While posts continue to show up all over the place, these have been ignored by Apple.
The only option from here is for you to leave feedback with Apple directly. When navigating Apple's Product Feedback page, you'll find there is no option for Siri.
Instead, you'll need to select "iPhone" and then fill out the appropriate form. The only thing that we can do now is hope that a real fix arrives with the launch of iOS 12.
READ MORE: iOS 12 Features We Could All Use
Apple is expected to debut its latest version of iOS at WWDC, which is taking place in June. In the meantime, be sure to let us know if you have found another fix that isn't mentioned here!
Additional Siri Resources to Consider
If you have other challenges with using Siri, you may want to consider some of these resources below. There is a lot of material out there that walks you through some of the Siri tricks and tips, but we wanted to share some of the common and productive Siri tips that have been tested and work on your iPhone.
Reader Tips 
If you share an Apple ID with family or friends, that can lead to problems with Siri if devices have iCloud enabled. Try turning off Siri in iCloud and see if things improve (go to Settings > Apple ID > iCloud > and toggle off Siri.) This worked for me and my husband–as we share an Apple ID!
I turned off dictation, restarted the phone, and turned it back on. This is ultimately what worked for me. Find Enable Dictation in Settings > General > Keyboards
Change to hands-free free only and see if Siri starts working again
Try to use Siri with your Earbuds (AirPods or any other headphones) are in and see if it works
I changed my Siri voice to a different county (in my case to an Australian female.) After 30 minutes or so, Siri started working again, and I could set up Hey Siri. After that, I changed back to UK English (male.) So give this tip a try if you're having problems!
This step-by-step worked for me:

Resetting network settings
Disconnecting Bluetooth and reconnecting
Restoring as a new iPhone and then connecting to a recent backup
We hope that the tips and resources provided above worked for you and you can get your Siri working on your device again. Please let us know in the comments if there are other issues that you are facing with Siri.