I use Siri all the time to search for directions, the latest news, text or call my family and friends, and a bunch of other things! So when Siri's not working, it's a real problem for my day-to-day living.
After recently upgrading my iPhone to a iPhone 11 Pro and spending a lot of time setting Siri up and training her, the next day I discovered that Siri wasn't working at all!
So what's up with Siri?
I know I'm not alone. Several of our readers let us know that Siri does not always work on their iPhones and other devices.
Some of these Siri problems start happening on their own out of the blue while others experience problems after an iOS upgrade on their device.
If Siri is not working on your iPhone, follow the steps below and give it a try.
Quick Tips 
Follow These Quick Tips To Fix Siri Not Working
Verify your device has a good internet connection
Reset your network settings
Check for any obstructions on your microphones and speakers
Force Restart your device
Enable Siri in Settings
Toggle on the Settings for Hey Siri and Press Side (or Home) Button for Siri (or off and on)
Toggle off Type to Siri in your accessibility settings
Disable Low Power Mode
Toggle Airplane Mode on and then off
Change Siri's language temporarily
Check that you disabled any Restrictions for Siri
Turn off VPNs
Reset all your personalized feature settings (Settings > General > Reset > Reset All Settings)
Turn on Location Services for Siri
Related Articles
Is Siri Telling You To Try Again?
It is important to note that 90% of Siri's magic happens in the Apple Servers and not your local device. 
If Siri says something like sorry, I'm having trouble connecting to the network or try again in a little while, your device's internet connection might be the reason!
It is, therefore, vital that you have a reliable WiFi or cellular signal when trying to get Siri working on your iPhone.
Siri Requires The Internet!
Currently, there is no offline mode for Siri. 
Siri works by sending data to Apple's Servers. Your device and Apple Servers convert your audio into text–this is what we call speech recognition.
Then the Servers analyze that text for intent–this is called Natural Language Processing. Once it determines the intent, those servers then send the results back to your iPhone.
Yeah, it's complicated! And amazing that all this information exchange takes place almost instantaneously (for us!)
Check Siri's Servers
If your internet connection is fine and works with other apps, it's possible that the problem is on Apple's side of the fence. 

Go to Apple System Status Site and take a look if there are any reported issues with Siri and Spotlight Suggestions.
Any service with a problem shows the yellow yield-like icon. Tap the issue to see details and any updates.
Is Siri Not Showing Up on Lock Screen?
It's usually a setting that's not turned on, often caused by a recent iOS update.
First, check Settings > Face ID (or Touch ID) & Passcode and scroll down to 'Allow Access When Locked' and make sure 'Siri' is enabled.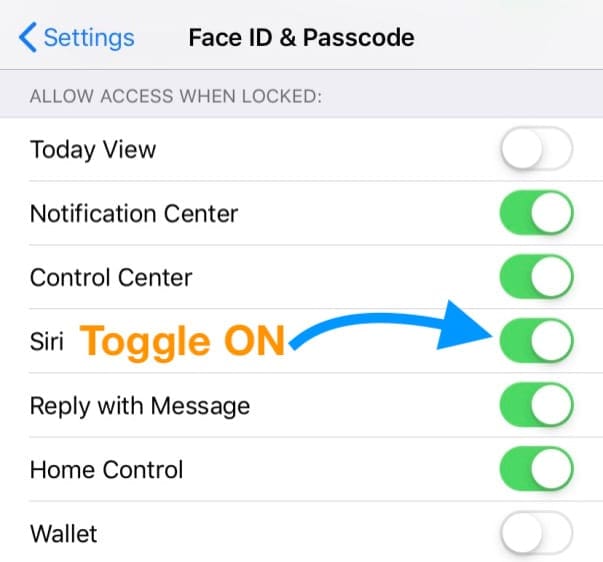 Another way to turn this feature on is to go to Settings > Siri & Search > and toggle ON Allow Siri When Locked.
If it doesn't work immediately, restart your device and try again.
For iOS 10 and below, go to Settings > Siri > and toggle on Access When Locked.
Is Hey, Siri Not Working? 
Make sure your iPhone supports Hey, Siri
If you have an iPhone 6s or later, or an iPad Pro (except iPad Pro 12.9-inch 1st generation doesn't support it), use "Hey Siri" whenever
But for folks with an iPhone 6 or earlier, or another iPad or iPod touch model, plug into power first. The give Hey, Siri a try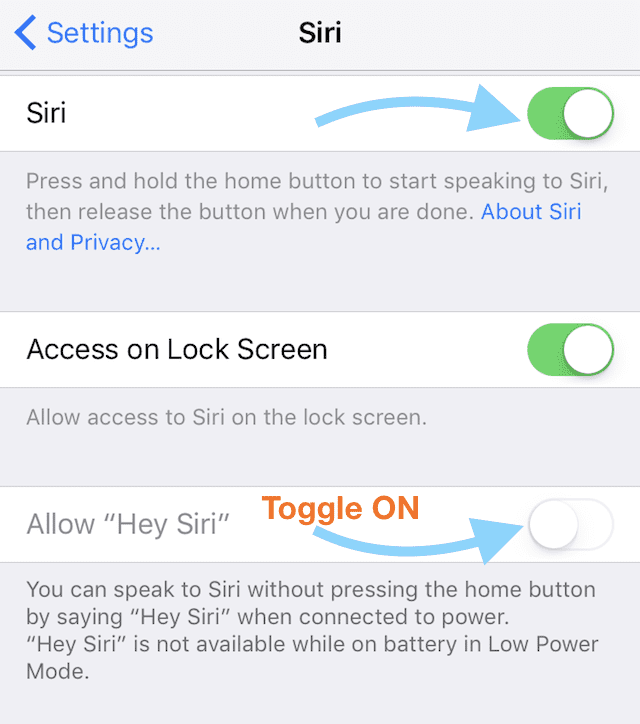 Verify that Hey Siri is Enabled
And on iOS 11 and above, go to Settings > Siri & Search
Check that you enabled Listen for Hey Siri
On iOS 10 and below select Settings > Siri or General > Siri and toggle Siri on as well as Allow Hey Siri 
Next, Make sure that your device is face-up
Placing your device facedown disables "Hey Siri"
Smart covers disable Hey Siri when closed
Hey, Siri not working on your AirPods?
On AirPods (2nd generation) and AirPods Pro Make sure that you toggle on "Hey Siri" on the iDevice that your AirPods connect to
For folks using AirPods 1st generation, double-tap your AirPods stem to engage Siri
Clear and Clean Your Microphones and Speakers
Make sure your mics and speakers are clean and not covered.
Dirt, lint, dust, and more can get into your microphones or speakers, so it's a good idea to inspect these.
If you see something, use an interdental brush, super soft toothbrush, hearing aid cleaning kits, or a specialized port cleaning tool and clear away that debris. 
When using compressed air, make sure you hold it at least 12 inches away from the port as any closer could make the problem worse by pushing it further inside your device!
Sometimes, cases cover microphones/speakers, especially if you're not using the correct case for your model iPhone or iPad.
If you suspect the problem is with your iPhone's or iPad's speakers, check out this article for help.
Reset Your Network Settings
Sometimes, all it takes is a refresh of your network to get Siri up and running.
Before you reset your networks, make sure you have the passcodes to re-enter
Go to Settings > General > Reset
Choose Reset Network Settings 
Enter your device passcode, if requested
At the prompt, choose Reset Network Settings
Once your device restarts, reconnect to your networks again and enter the passcodes
Force Restart Your iDevice
On an iPhone 8 or later and iPad without a Home Button: Press and quickly release the Volume Up button. Press and immediately release the Volume Down button. Then press and hold the Power/Side/Top button until you see the Apple Logo and the device restarts 
On an iPhone 7 or iPhone 7 Plus or 7th generation iPod touch: Press and hold both the Side and Volume Down buttons for at least 10 seconds, until you see the Apple logo 
On an iPhone 6s and earlier, iPad with a Home Button, or iPod touch: Press and hold both the Home and the Top (or Side) buttons for at least 10 seconds, until you see the Apple logo 
Turn off Type to Siri
Go to Settings  > Accessibility > Siri > toggle off Type to Siri
It's possible that Type to Siri is causing problems with interacting with Siri, so let's see if toggling it off helps.
Disable Low Power Mode
Additionally, if you have Low Power Mode turned on, Apple disables Hey Siri for power-saving purposes.
If possible, turn off low power mode 
Use Control Center or go to Settings > Battery and switch off Low Power Mode
An interesting reader tip that works is turning off your iDevice's Battery Percentage. Go to Settings > Battery and toggle off Battery Percentage


If not possible, charge up, and Siri turns on automatically when your iDevice reaches a sufficient charge
How To Get Siri To Work Again
Try Airplane Mode 
Turning Airplane Mode on, waiting 20-30 seconds, and then toggling it back off often helps Siri reset
To get to Airplane Mode, open Control Center or open Settings > Airplane Mode 
Toggle it on, wait about 30 seconds, then turn it back off
Now check if Siri starts responding and showing you results!
Look At And Possibly Change Siri's Language
Make sure that Siri is set to the correct language (Settings > General > Siri > Language)
For iOS 11 and above, find this in Settings > Siri & Search (or Siri) > Language 
A reader shared this tip! Change Siri's language temporarily, then change it back
How To Modify Siri's language
Go to Settings > Siri & Search
Tap Language, under the Ask Siri heading
Change to another language or a regional version of your current language (like English (Canada) instead of English (United Kingdom)

When you change Siri's language, it turns off "Hey Siri" until you re-train Siri to your voice

Once Siri updates to the new language, restart your device
Return back to Siri's settings and change again to your usual language
Since Hey Siri is off, toggle it on and go through the steps to train Siri to your voice 
Check For Any Restrictions on Siri
If you can't turn on Siri on your iDevice, make sure that you haven't disabled Siri in Restrictions.
On iOS 12 or later, go to Settings > Screen Time > Content & Privacy Restrictions > Allowed Apps
Make sure that Siri & Dictation is toggled on 
For iOS 11 or earlier, go to Settings > General > Restrictions and check if Siri is off
Allow Siri To Access Your Location
Some of the Siri features require you to use Location Services
Go to Settings > Privacy > Location Services > Siri & Dictation > select While Using the App
Switch On/Off Dictation
 Settings > General > Keyboards > Toggle Enable Dictation off and on 
This setting is the last setting on the screen, so you need to scroll down to the bottom of the screen to access this
Disable Siri
Tap Settings > Siri & Search (for older iOS, Settings > Siri or Settings > General > Siri)
Toggle Siri off, if possible
For iOS 11 and above, toggle off the following:

Listen for "Hey Siri"
Press Side Button for Siri
Allow Siri When Locked 

Turn your iPhone off and on and re-enable Siri again
For more information on disabling Siri in iOS 11 and above, see this article
Turn Off Your VPN
If you use a VPN, some end up blocking Siri and your device's access to Apple Servers.
In particular, people report seeing the error message 'Connection not available' when trying to access Siri on their cellular connection.
If you are having this issue, look at your VPN settings. 
If you have a VPN that you no longer use or need, delete the VPN profile in your iPhone settings by tapping on Settings > General > VPN.
Once you remove the VPN Profile, give it a try.
New versions of iOS often do not seem to work with some of the older VPN installs on your iPhone.
Reset All Your Settings
If nothing's helping thus far, let's try and reset your device's personalized settings and return them to Apple's defaults.
When you choose to reset all settings, you're erasing all of your iDevice's saved settings (things like wallpapers, accessibility settings, brightness & display settings) and returning them to factory defaults.
To Reset All iPhone Settings
Go to Settings > General > Reset > Reset All Settings 
Enter your passcode and tap Reset All Settings to confirm
Your iPhone resets its settings and restarts
Cool Tip! Ever wonder what Siri stands for? It's actually Speech Interpretation & Recognition Interface
Can't Hear Siri?
A reader noticed that Siri's volume is independent of your device's set volume.
While Siri is answering a question push the volume button to increase volume! Instant sound!!!
Siri doesn't work after iOS Updates?
Before anything, try a forced restart–see instructions above.
Siri Working on Cellular Data Only?
Several users have found that their Siri on their mobile device works only when connected to their WiFi but does not operate when they are on a cellular connection away from their home or office.
This problem is usually caused by their VPN.
Delete or disable your VPN and see if it makes a difference.
Is Siri Cutting You Off Mid-Sentence?
One recent iOS problem is that it seems that Siri literally cuts you off before you finish the command!
Things have gotten so bad that when you start asking or typing in a search for "why does Siri…" the auto-complete suggestion is "…cut me off!"
Here's how we got Siri to stop interrupting and listen to everything we say!
First, update your iOS.
If it's still a problem, try the following suggestions.
The "Easy" Siri Fix
Make sure that you're holding your side or home button for the entire time that you're asking Siri a question.
Don't wait to hear the familiar chime
Instead, press and hold the Side or Home Button and begin talking right away
Keep holding the button until you finish speaking 
As expected, once you release the button, Siri starts replying to you or perform the necessary action.
Turn Siri Off
Another simple fix for Siri acting weird is to turn the functionality on and then off.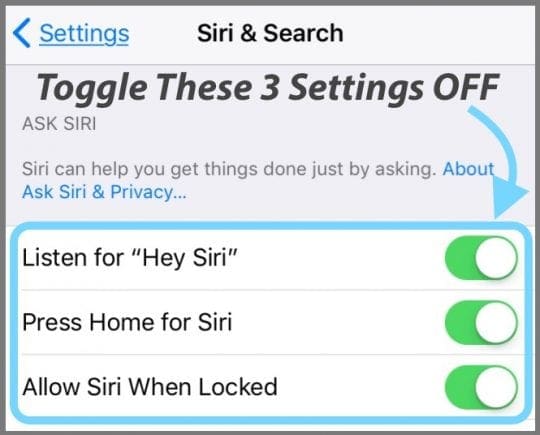 Open Settings
Scroll down and select Siri & Search
Toggle off the following:

Listen for "Hey Siri"
Press Side Button for Siri
Allow Siri When Locked

Once done, a pop-up appears confirming that you want to turn off Siri completely
Tap Turn Off Siri 
Reboot your iPhone
When the phone turns back on, head back into Settings and turn Siri back on
Go through the on-screen instructions to train Siri to your voice again
Contact Apple 
If all else fails then make an appointment at the Apple Genius Bar for service.
Provide Feedback On Siri's Performance
It's always a good option to also leave feedback with Apple directly.
When navigating Apple's Product Feedback page, you'll find there is no option for Siri.
Instead,  select your iPhone or whatever device has the Siri problem and then fill out the appropriate form.
Wrapping It Up
We hope that the tips and resources provided above worked for you and you can get your Siri working on your device again. Please let us know in the comments if there are other issues that you are facing with Siri.
And be sure to let us know if you have found another fix that isn't mentioned here!
Reader Tips 
Try changing to hands-free only. When I did this, Siri started working immediately!
This process worked for Laurie

Toggle Siri off and then back on
Set up and train Siri
Turn on Press Side (or Home) Button for Siri
Instead of saying Hey Siri, press and hold the side button until it activates Siri

After I updated to the latest version of iOS, Siri didn't work on my iPhone XS Max! Hey, Siri seemed to respond but then immediately stopped working. I tried a force restart following the instructions in this article and bang, Siri's working again! The forced restart seems to have fixed the problem. Yippee
If you share an Apple ID with family or friends, that can lead to problems with Siri if devices have iCloud enabled. Try turning off Siri in iCloud and see if things improve (go to Settings > Apple ID > iCloud > and toggle off Siri.) This worked for my husband and me–as we share an Apple ID!
I turned off dictation, restarted the phone, and turned it back on. This is ultimately what worked for me. Find Enable Dictation in Settings > General > Keyboards
Change to hands-free free only and see if Siri starts working again
Try to use Siri with your Earbuds (AirPods or any other headphones) are in and see if it works
I changed my Siri voice to a different county (in my case to an Australian female.) After 30 minutes or so, Siri started working again, and I could set up Hey Siri. After that, I changed back to UK English (male.) So give this tip a try if you're having problems!
This step-by-step worked for me:

Resetting network settings
Disconnecting Bluetooth and reconnecting
Restoring as a new iPhone and then connecting to a recent backup
Obsessed with tech since the early arrival of A/UX on Apple, Sudz (SK) is responsible for the original editorial direction of AppleToolBox. He is based out of Los Angeles, CA.
Sudz specializes in covering all things macOS, having reviewed dozens of OS X and macOS developments over the years.
In a former life, Sudz worked helping Fortune 100 companies with their technology and business transformation aspirations.