Wondering how to forward text messages to another iPhone or even an Android phone? Sometimes we get text messages or images that we really want to share with friends and family. Maybe it's something funny, super-cute, or profound. Maybe it's a photo or some other type of message attachment.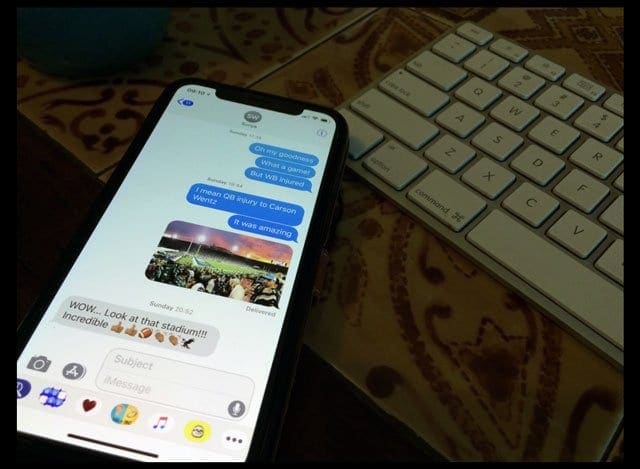 Whatever the message is, we want to share it by quickly forwarding to all our peeps. But then, we discover that it's not so transparent on how exactly we forward anything to someone else via the Messages app! That's exactly what happened to me a few days ago–I wanted to quickly forward a text and image one friend sent to another friend, knowing she would get a kick out of it. But try as I might, I couldn't figure out how to forward that darn message and image to her! And yeah, it was frustrating. 
But the good news is I did indeed get to forward that message after taking a bit of time to learn how. So to answer the question how do I forward text messages to another iPhone? Or any other phone for that matter, here's how we do it. Best of all, it's pretty darn easy once you know!
So let's get to it!
Forward Those iPhone Texts! And Images too
Navigate to the conversation thread that has the message and/or image etc. you want to forward to someone else
Long Press a message bubble until you see a pop-up menu with Copy and More options

Deep Pressing a photo does not work. It takes you to the Share Sheet instead

Press More 
Empty circles appear next to all your texts and images
Tap the circle to select the messages, images, and anything else you want to forward

A blue circle with a white checkmark appears next to each selected message or image
Tap the Forward Button–the curved arrow at the right bottom of your screen

A new text message screen appears with all the message, messages, or photos you selected

Type in the name, phone number, or email of the person(s) you want to forward that message to
Or tap the Plus sign ( +) to browse through your contacts

Tap Send (the blue or green arrow in message window) 
How-To Forward Text Messages to Multiple Recipients
It's easy! Just follow those same steps except enter multiple names, phone numbers, emails, etc. when you reach step 6.1 and 6.2. It's that simple.
How-To Forward Stickers, Emoji, Links, Videos, and Other Message Attachments Via Text Message
It's all the same. And easy. So if someone texts you a video, sticker, emoji, or pretty much anything else, you can forward that following those exact same steps. Just make sure you select all the items you want to forward by selecting the empty circle and getting a blue circle with a white checkmark next to all the content you want to forward. 
But remember that emoji don't look the exactly the same if you're sending to non-Apple devices. Luckily, stickers should look the same as your iDevice sends the sticker as an image.
Want to auto-forward your iPhone's text messages?
It's a question we hear a lot: can I forward text messages to another phone automatically? Many folks want to auto-forward their texts, like from a work phone to a personal phone or vice-versa. Or maybe you're traveling to another country and using a different phone while away BUT you still want all your messages. Unfortunately, unlike Android phones, iPhones do not currently offer an app (even a third-party app) to do this for you. But there are some workarounds, here's our best!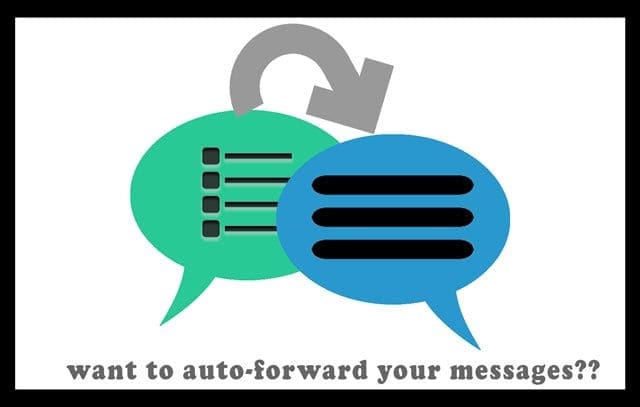 First of all, if you're sticking with the Apple eco-system, you can get the same iMessages on two or more iDevices if you log in with the same Apple ID.
Or Use Apple's Continuity Feature for SMS!
If you have an iPhone, any text messages that you send and receive on your iPhone can also appear on your Mac, iPad, and iPod touch. With Continuity, you continue your SMS conversations from whichever device is nearby. 
How-To Set-Up Continuity for iDevices and Macs
Make sure that every device is signed in to iCloud with the same Apple ID
On iPhone, go to Settings > Messages > Send & Receive. Check that the Apple ID  is the same Apple ID you're using for iMessage on all your other devices.

Add a checkmark to both your phone number and email address, so that you can be reached by iMessage either way
Repeat the above step for all other devices you want your texts to show up on

On your iPhone, go to Settings > Messages > Text Message Forwarding

Choose which devices you want  to send and receive text messages from this iPhone
If you're not using two-factor authentication for your Apple ID, a verification code appears on each of your other devices: enter that code on your iPhone

On Mac, open Messages, then choose Messages > Preferences

Click Accounts, then select your iMessage account
Verify that the Apple ID shown here is the same Apple ID that you're using on your other devices
Add a checkmark to your phone number and email address if not already there
Check with your Carrier
If none of these options are possible or if you want to auto forward text messages from iPhone to Android, check to see if your carrier offers some sort of text forwarding option. Currently, there is no option in iOS or via a third-party app that automatically sends all SMS texts from an iDevice to Android or any other mobile operating system.
Options for Android 
However, there is an app for Android phones to auto-forward texts to iPhones. So if you have both an Android phone and an iPhone, try using a third-party app like AutoForwardSMS on your Android phone. These apps allow Android's SMS texts to be auto-forwarded to any other phone type, including iPhones. Many even forward your incoming text messages to your email address.
So for folks using both Android and iPhone, there are options so you don't always have to carry 2+ mobile phones.
Or try a third-party app to forward text messages 
Many folks needing SMS auto-forwarding between multiple phones swear by Google Voice. The downside is that you need a new phone number–you cannot use your current iPhone number. However, Google offers that phone number, including a local area code, for free. And you can then install the Google Voice App using that same number on any number of smartphones and computers. That way all your texts, calls, and voicemails are synced between all types of devices, from all makers.
So your Google Voice texts would show up on any device, with no need to carry more than one device at a time. However, on iPhones, all calls made using Google Voice DO count as minutes on your mobile phone plan, if that's a concern. And Google Voice is currently available in the US only.
Other similar options include apps like Sideline, LineUp, Second Phone Number, Hushed Second Number, and many others. Rather than recommending a particular app, we encourage our readers to visit the app store and read reviews and descriptions to see which app, if any, meets their specific needs.
If text-forwarding is important to you or if you're juggling multiple devices with multiple numbers, these third-party solutions might be the way to go.
For most of her professional life, Amanda Elizabeth (Liz for short) trained all sorts of folks on how to use media as a tool to tell their own unique stories. She knows a thing or two about teaching others and creating how-to guides!
Her clients include Edutopia, Scribe Video Center, Third Path Institute, Bracket, The Philadelphia Museum of Art, and the Big Picture Alliance.
Elizabeth received her Master of Fine Arts degree in media making from Temple University, where she also taught undergrads as an adjunct faculty member in their department of Film and Media Arts.