Apple's MacBook is a beautiful piece of hardware as compared to its competitors in the market. It's insanely fast, user-friendly, safe, organized, and simple to use. The hardware and the software, macOS or MAC OS X, make the machine amazing.
However, it is nevertheless a machine and sadly, does indeed malfunction at times.
Some issues might not be as significant but if it doesn't startup or all you see is a spinning wheel, then that's a serious matter. Today, we look at one of those issues: Mac or MacBook Stuck on Apple Logo.
Quick Tips 
Follow These Quick Tips To Help When Your Mac or MacBook Gets Stuck on the Apple Logo
Disconnect all the peripherals and restart

For MacBooks, try disconnecting the charger as well, if possible

Use the Start-Up Manager to choose your boot drive
Boot up in Safe Mode
Repair Disk using Disk Utilities
Run Apple Hardware Test or Diagnostics
Related Articles
You're in Boot Loops!
Many Mac users find their machines stuck on the Apple logo or commonly known as boot loop and are usually clueless about it.
There is a set of things you can try on your Mac to make it function normally again, or at least figure out what went wrong.
This article discusses some basic tricks you can execute on your Mac and one of them, most probably, will work out for you.
Note: boot failures are serious problems. It might be an indication that something is wrong with your system's hardware.
It is a wise practice to backup all your data before you try these steps out.
Backup First
The first step in dealing with a boot failure is to secure your data.
If you don't routinely back up or don't have at least one current backup, try backing up your drive before you do anything else.
You must have an external hard drive to backup to.
There are several ways to back up a Mac that is not booting up.
Use your Mac's recovery partition

First, try and boot into your Mac's Recovery partition by pressing Command + R keys or from a Time Machine backup, if available, by pressing the option key at startup
When the macOS Utilities screen appears, start Disk Utility
Follow the on-screen instructions to back-up to an external hard disk
Try Target Disk Mode
If you have access to another Mac and both Macs have FireWire or Thunderbolt ports, you can connect them so that one of them appears as an external hard disk on the other in target disk mode

Use the other Mac to copy your problem Mac's data to another drive

Unfortunately, target disk mode only works with Thunderbolt or FireWire and NOT USB, Ethernet, WiFi, or Bluetooth
Shutting down your Mac
The first and most essential thing you can do is shut your Mac off
Disconnect all the peripherals that were connected to it externally except those needed to boot the system
Some of our readers even removed their MacBook's charger! So if your MacBook has sufficient charge, try removing the charger as well
Booting the system now might result in Mac functioning normally. If it does, any of those peripherals (or a combination) was creating the difficulty.
Repair Disk
There may be a hardware issue, so it's a good idea to boot into Recovery Mode (Command +R) and try repairing your hard drive from there using Disk Utility and First Aid.
For that, you'd need to shut it down first.
In OS X 10.8 Mountain Lion or advanced versions, pressing and holding the Command and R key together and powering it on again will boot your Mac in Recovery Mode.
Then choose Disk Utilities and First Aid.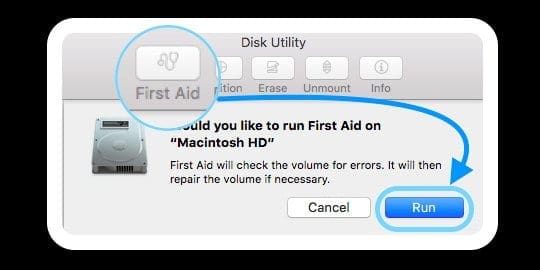 Use Start-Up Manager
Press the Option + Power Keys together to start your Mac up in Startup Manager, and choose which startup disk to boot from. 
If your Mac is using a firmware password, you need to enter that password first.
Try Safe Mode
If disconnecting peripherals didn't do the job, you need to get a little technical with your Mac.
The most common practice is to boot your Apple in Safe Mode
To boot it in Safe Mode, you'll need to shut it down if it's turned on
Once this is done, start it up again while holding the Shift key
Working in Safe Mode might need some patience and compromise. Safe Mode is much slower than normal mode, and some of the features might not work at all, e.g., connecting to a network, etc.
That is probably why it is called safe mode. If the system doesn't boot in the Safe Mode either, skip this step and jump down to the next tip.
If it does boot, check if your boot volume has 9GB or more space available.
You should make at least 9GB space in your boot volume available if it already isn't.
You can do that by emptying the trash and copying some files in another volume. After this, shut the Mac down and reboot normally.
Try Internet Recovery
If your recovery partition isn't working, try Internet Recovery which remotely loads recovery from Apple's 

servers
With Internet Recovery, reinstall macOS or OS X to troubleshoot problems when your Mac's startup disk isn't working
Internet recovery works with new model Macs and some older models, check Apple's site for compatibility
macOS (OS X) Recovery over the Internet, the Reinstall macOS utility, and the Get Help Online utility all require an Internet connection
Internet Recovery Mode reinstalls the macOS or OS X version that originally came with your computer when purchased.
So use Internet Recovery only if your Mac's internal disk is damaged or otherwise inoperable
To manually start up from macOS or OSX Recovery over the Internet, hold down Option-Command-R or Shift-Option-Command-R at startup.
Go to Disk Utilities once you see a screen named macOS or OS X Utilities
Now that you're here select your startup volume and hit First Aid and then Repair Disk button
It shows you some issues your volume might have. Keep doing this until it shows none
It might tell you that your drive has malfunctioned and you should replace it. If so, follow your Mac
Run Apple Hardware Diagnostics!
Disconnect all external devices except keyboard, mouse, display, Ethernet connection (if applicable.) If you don't disconnect all devices, you might see an error message when running the test
Make sure that your Mac is on a hard, flat, stable, well-ventilated work surface
Shut down your Mac
Turn on your Mac and immediately press and hold the D key. Maintain this hold until you see the Apple Hardware Test's icon on-screen, then release

Or  hold down Option-D at startup to startup from the Apple Hardware Test over the Internet

Select your language and click the right arrow or return key
To test, tap the Test button, press T, or press Return

Select "Perform extended testing" to run a more thorough test. The extended test takes longer to complete

When the test finishes, your test results appear in the lower-right
To quit the Apple Hardware Test, click Restart or Shut Down at the bottom of the window
Some older Macs with startup disk's that don't contain AHT automatically startup the Apple Hardware Test over the Internet.
If you're using OS X Lion 10.7 or earlier and can't get AHT to start, locate the OS X installation disc named "Applications Install Disc 2." Insert the disc in your internal CD/DVD drive or external SuperDrive before following the steps above.
If using a MacBook Air (Late 2010), plug the MacBook Air Software Reinstall thumb drive into your USB port before following the steps above.
Leverage Terminal 
Boot into Recovery Mode, if possible (hold the keys CMD+R to startup)
Navigate to the Utilities menu at the top of the screen
Choose Terminal from the list
Enter these two commands in Terminal

cd /Volumes/Macintosh\ HD/var/db/caches/opendirectory
mv ./mbr_cache ./mbr_cache-old

Exit from Terminal
Restart
This process forces your Mac to rebuild a file called mbr_cache.
It's basically the cache file for your master boot record–the file that your Mac needs to startup. 
Be prepared for that first reboot to be extremely slow as the cache rebuild happens.
Seeing Error "Operation Not Permitted" in macOS Mojave and above?
If you are not able to execute Terminal commands, it's likely that your macOS System Integrity Protection (SIP for short) is blocking you.
To get around this, you need to provide Terminal access to your full disk by changing some settings in System Preferences
Open System Preferences > Security & Privacy > Privacy Tab 
Select Full Disk Access from the left sidebar

If you can't make changes, unlock your disk by pressing the padlock icon in the lower-left corner and enter your Administrator Password

Tap the + symbol
Add the App or Terminal to your approved apps with Full Access. Close the app if it's already running and then add it to the list
Restart the App or Terminal and see if it now accepts your commands

For apps, upon reopening, grant it access to make changes to your computer if needed

You should only need to do this ONCE for each app or Terminal
For more information on SIP and macOS Mojave, see this article.
No Time? Check Out Our Video Tips
Obsessed with tech since the early arrival of A/UX on Apple, Sudz (SK) is responsible for the original editorial direction of AppleToolBox. He is based out of Los Angeles, CA.
Sudz specializes in covering all things macOS, having reviewed dozens of OS X and macOS developments over the years.
In a former life, Sudz worked helping Fortune 100 companies with their technology and business transformation aspirations.