In the latest version of iOS, Apple has focused mainly on the iCloud, and there's another feature called iCloud Drive that will let you save all of the data from your iPhone, iPad to the Cloud services.
So, long gone are the days when people had to connect their iPhones or iPads with iTunes and back up everything on the computer. However, People do report having iCloud account problems when starting out.
Related Articles
The Beauty of iCloud
All you have to do is to connect your iPhone or iPad using Wi-Fi, and all of the data will be automatically back up to your iCloud account.
For most people, an iCloud account is usually the same as the iTunes account, and once you create the iTunes account, you can use the same username and password to login to your iCloud account.
Having an iCloud account is very helpful. Besides the iCloud drive for backups, you can also use iCloud.com to view emails, create and manage email aliases and recover documents that were deleted accidentally.
iCloud also helps you in setting up family sharing and more importantly tracking your devices (Find my iPhone; Settings >Apple ID Profile > iCloud >Find my iPhone).
It is available with 5GB free storage, but you can upgrade to avail yourself of more storage.
Although it is one of the most secure and stable ways to transfer data from your iPhone, iPod, and iPad, you may still have some problems with your iCloud account.
Several readers have reported in our forums about some of the experience issues related to their iCloud account.
Requirements
Before you continue, Please make sure that you meet the following conditions:
Besides the backup problems which we have written about extensively in the past, this series of article will focus on issues about Authentication, Unsupported User ID, and Synchronization related issues.
About Your iCloud Photo Library 
Your iCloud Photo Library is a backup AND a photo-sync service. That's why when you delete a photo in one place, it removes that photo from all devices using the same Apple ID.
But storing all those photos potentially takes up a lot of your iDevice's Storage.
With iOS 10 and above, Apple designed a solution called Optimize Storage to better manage your photo storage for you.
Find it under Settings > Apple ID Profile > iCloud > Photos or  Settings > Photos > Optimize Storage. 
When you have sufficient local on-device storage, photos remain "as-is" on your device.
BUT, when your iPhone (or another iDevice) needs space, Apple moves all the high-resolution versions of your photos to your iCloud account, freeing up storage on your device.
Once those photos are moved to iCloud, all that is kept on your iPhone are compressed thumbnails, until you open a picture again.
When you open a photo, your device downloads a device-optimized version of that photo from iCloud.
The full-resolution version remains on iCloud and isn't downloaded until you edit or share the photo.
Getting Storage Almost Full or Cannot Take Photo Messages?
Check out our article on managing your storage.
Unable to Connect to iCloud? Other Server Errors? 
If you see a message that your device or computer is unable to connect to iCloud, Apple, iTunes, App Store, or other Apple sponsored servers, it's often a problem on the servers themselves.
That means it's entirely out of your control and the best remedy is time and practicing patience.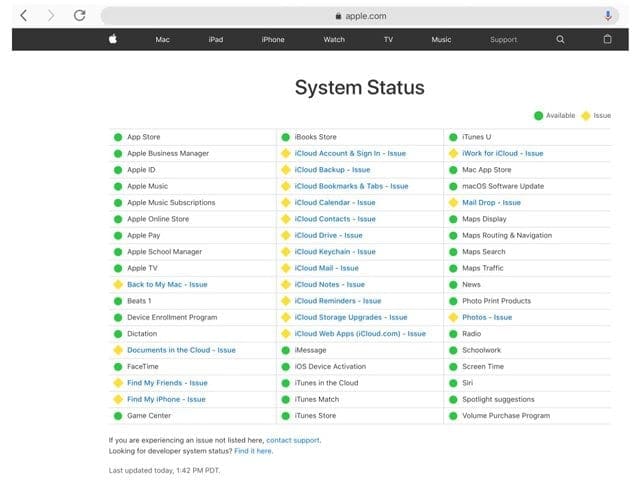 To check the status of Apple Servers, go to your country's site and search for Apple System Status.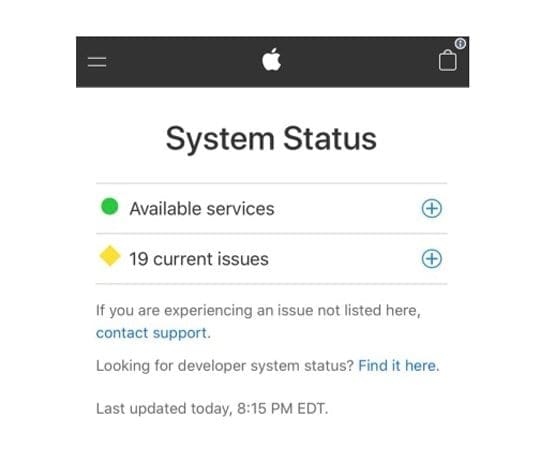 This page gives you a snapshot of current issues and the status of those problems. If you see yellow caution sign, there is a reported problem that Apple is aware of and working on.
Check Third-Party Monitoring Sites
Another great site to check is DownDector, or similar, which often showcases problems with iCloud and other Apple Services long before Apple officially acknowledges issues on their side. 
A nice feature of these third-party sites is Live Outages Maps, showing you the regions around the world where people currently experience problems. 
Additionally, you can read other people's feedback, tips, solutions, or rants about the issues! And of course, add your input as well.
Problems and their Solution
Authentication Failed or Failed Username and Password Issue:
The most common issue experienced related to the iCloud account is the failed authentication; this issue is related to the wrong user ID or the password.
Solution:
Unsupported Apple ID
The newer iTunes account is automatically associated with the iCloud services. However, if you are using an old account, you may experience this issue of unsupported Apple ID.
Apple ID Disabled?
If you're having trouble with your Apple ID, you might have entered your password incorrectly too many times in a row. Or maybe you haven't used your Apple ID for a long time.  Apple periodically changes the rules and requirements for Apple IDs, passwords, security questions, and verification steps.  So if you haven't updated your Apple ID setting to meet these requirements, Apple occasionally disables these accounts until you log in and update all your information.
If your Apple ID isn't working, check out these articles for next steps
What's Next?

The easiest way to solve this problem is to reset your Apple ID. First transfer all of your data from your iCloud account to your computer. You can log in to the iCloud website and copy the contacts and other data from your account. After that, delete the iCloud account and make a new iCloud account to make this work.
If none of the above-mentioned methods worked for you for your account related problems, please go to the Apple iCloud Contact Support or leave a comment below.
If your account is working fine, click here to set up the iCloud account on your iPhone, iPod Touch, iPad, macOS, Mac OS X or Windows. Now with the basic account set up and iCloud enabled on your iOS devices, you should be good to go. Some folks experience iCloud sync issues and other backup related issues from time to time.
Quick Tip:
If you were ever using your iCloud.com account on a computer that is not yours to check emails or look up contacts when you didn't have your devices, it is vital that you sign out correctly from the account. If you forgot to sign off from your iCloud.com account, you can still sign in from somewhere else and then by going to Settings > Advanced > "Sign Out Off All Browsers" ensure that your account has been logged off.
How to Delete iCloud Account?
Removing your iCloud account is easy. But if you don't backup your data anywhere else, it's better to keep your iCloud account. Consider upgrading your account to a larger storage plan. The first level includes 50 GB of storage and charges .99/month USD.
If you don't want a paid plan, try just turning off iCloud for photos. For iPhones and other iDevices, go to Settings > iCloud > Photos > and toggle OFF iCloud Photo Library. Leave iCloud Photo Stream ON–The photos you upload to My Photo Stream don't count against your iCloud storage, BUT Photos are stored in My Photo Stream for only 30 days–just so you can share them and download to other storage accounts, your computer, etc.
If your iCloud storage is near its maximum, visit icloud.com on a computer and download some of your photos or videos and save them elsewhere. To download, use the cloud button with the downward arrow–save to your computer, an external drive, or a flash storage drive. Once your photos and videos are saved, delete those same pictures/videos to free up some space on your iCloud account, so it continues to backup your iPhone or another iDevice. Learn more about freeing up space on your iDevice through this article.
If you really want to sign out of iCloud and everything it offers including backups, go to Settings > iCloud and scroll all the way down to Sign Out. Tap Sign Out, a confirmation message appears letting you know that all data is removed, if that's what you want tap sign out again.
If you have any issues with the iCloud Sync, click here; for iCloud backup related issues, please see this article. You can also explore other aspects of iCloud troubleshooting at one of our posts from previous years.